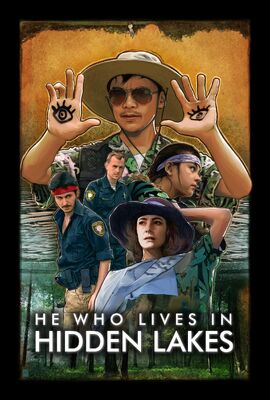 He Who Lives In Hidden Lakes is a 2021 adventure-comedy mockumentary film written, directed, and edited by Zach Lona. The film's subject is a cryptid known as the "Hidden Man," an elusive entity that lurks in the suburban forest preserves of Hidden Lakes, Illinois, USA. The story's faux documentary style follows the exploits of cult leader Margaret (Sarah Kopp), rogue police officer Garrett Walden (Lucas Lona), and Oracle Joe (Kevin K. Gomez), a self-proclaimed enthusiast of the monster, as well as a variety of secondary characters as the town's obsession with the Hidden Man is explored.
Synopsis
[
]
The fanatic beliefs of an internet mystic, a cult leader, and a rookie cop gone rogue are tested on the hunt for the "Hidden Man" -- an elusive forest-dwelling cryptid that terrorizes their idyllic suburb.
Trivia
[
]
During production, director Zach Lona received a corneal abrasion on his left eye from a tree branch. He wore an eyepatch for the remainder of the shoot while the wound was incredibly sensitive to light.
He Who Lives In Hidden Lakes was the first full-length movie in history to mint & sell as a 1-of-1 edition NFT. The token's metadata is on-chain, and includes unique tokenomics for the benefit of the its owner.
Links
[
]